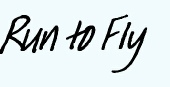 Breathtaking, virtuosic and moving, Alba's Edge weaves expressive melodies of Scottish fiddling with jazz improvisation and harmony, funk bass lines and the rhythms of Latin America to form a unique musical experience. Fiddle, piano, drums and bass blend seamlessly in a new sound BBC Radio Scotland called "a wonderful concoction."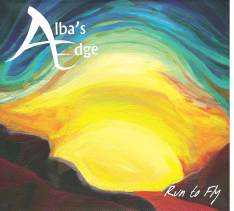 Pianist and bandleader Neil Pearlman, from a family deeply rooted in Scottish music and dance, studied jazz piano extensively in New York, along with Brazilian, Afro-Colombian and Cuban music. His sister, fiddler Lilly Pearlman, not only grew up with Scottish culture but lived in Brazil, and loves the rhythms of Brazil, Cuba and beyond.
Sample 1, from "Willard State Park"
Sample 2, from "Scott and Rhonda"
Sample 3, from "The Diamond"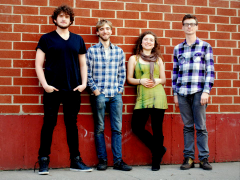 After pioneering these musical ideas on the 2011 CD Coffee and the Mojo Hat ("sweet hybrid" – Huffington Post), Neil joined forces with Lilly to create Alba's Edge, with Boston drummer/ percussionist Jacob Cole and New York bassist Doug Berns. Jacob's deep knowledge of Latin rhythms and jazz drumming combines with Doug's distinctive bass groove honed in the funk, afro-beat and jazz communities of New York.
Order CD
Neil Pearlman – piano, vocals
Lilly Pearlman – fiddle, vocals
Jacob Cole – drums/percussion
Doug Berns – bass
Produced & mixed by Aidan O'Rourke
2014 Musician of the Year, BBC Radio Folk Awards